February 2022
A red thread of inspiration
Adjacent to the Bolia store in Aarhus, Denmark, lies the recently remodelled Bolia head office. A 1,285 m2 extension of the Bolia universe which houses all its office workers, and which underlines why Bolia identifies itself as not merely a retailer, but as a design universe.
As an outsider, walking from the Bolia store and into the office space at Værkmestergade 11 and 13 in Aarhus, Denmark, you may not even notice that you are changing locations. Furnished with current Bolia products and decorated in the same style as the stores, the Bolia head office is practically an extension of the neighbouring store. So much so, that if a customer is interested in a product that is not displayed in the store but is in use at the office, store personnel can bring the customer to the office space to show them. And as with any other showroom, when Bolia's assortment changes, the office furnishing is updated, and the discarded items are sold at a reduced price.
The resemblance between the stores and the head office is no coincidence. In 2020, when it became time to expand and remodel the existing head office, the decision was made to skip hiring outside designers and instead let the in-house concept designers, who are responsible for designing Bolia stores, do what they do best: Creating beautiful surroundings that leave you peaceful and inspired.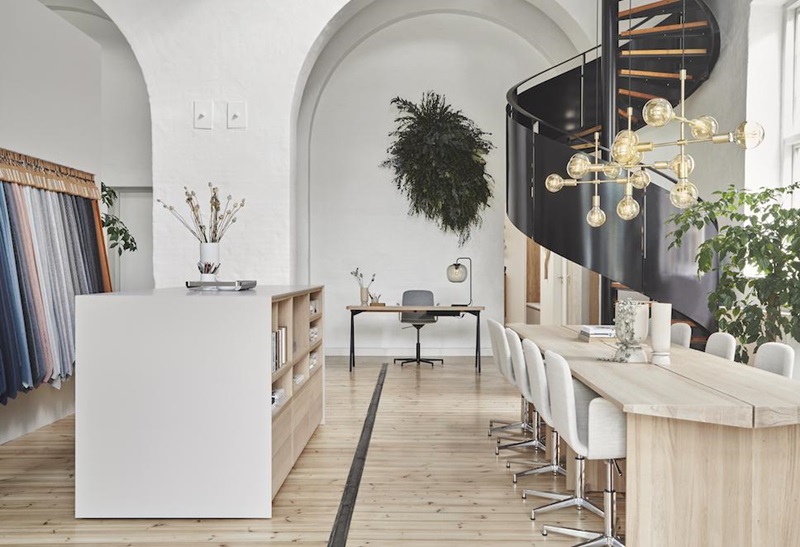 The idea to have in-house designers from the retail department design the office space originated in a wish to ensure coherence and fluidity within the Bolia universe:
"We consider our office a part of the store, and it should be furnished as such. Our office space is basically a showroom, and we want it to support the fluidity that is a vital part of our philosophy," explains Thomas Fruergaard Schelander, Concept Design Manager, Bolia.
To ensure this, the historic buildings in Værkmestergade have been transformed to convey the Bolia universe with the characteristic use of light wood, comforting earth-toned colours and open floor plans that allow natural light as well as people to flow freely throughout the space.
"To further enhance the fluidity, we switched to free seating as part of the remodel to free ourselves from the structures and silo mentality that so easily become dominating in an organisation. With our new setup, people are free to move around and form groups based on ongoing projects rather than being seated based on departments," Schelander explains.
In addition, the new office space offers several different types of workspaces: Traditional desks for individual work, comfortable armchairs facing each other for informal group work and lounge areas to encourage bonding with colleagues as well as working in larger groups.
With the remodelled office space and expansion of the Bolia universe, members of the Bolia family can enjoy surroundings similar to those that have been inspiring customers for years.