August 2022
Homes away from home
Imagine walking into a holiday home and it feels like… home. This is exactly what Third.space had in mind when decorating holiday homes in the three Lalandia resorts. Their newest project is the holiday resort Lalandia Søndervig with no less than 440 holiday homes ready to welcome guests in June 2022. The homes can fit anything from 4 persons to 8 persons and vary from 55 m2 to 110 m2 in size.
The colours used in the holiday homes have a deeper meaning than first anticipated, as Third.space got the idea of bringing the colours from outside into the holiday homes. "The tabletop has a light green colour like the leaves on the trees, and the blue cushions on the couch are a symbol of the ocean. The couch itself is cognac-coloured like the brown tones found in the forest. Warm, soft, and relaxing colours are what defines the holiday homes", Poul Gram-Hansen, Sales Manager in Third.space, says.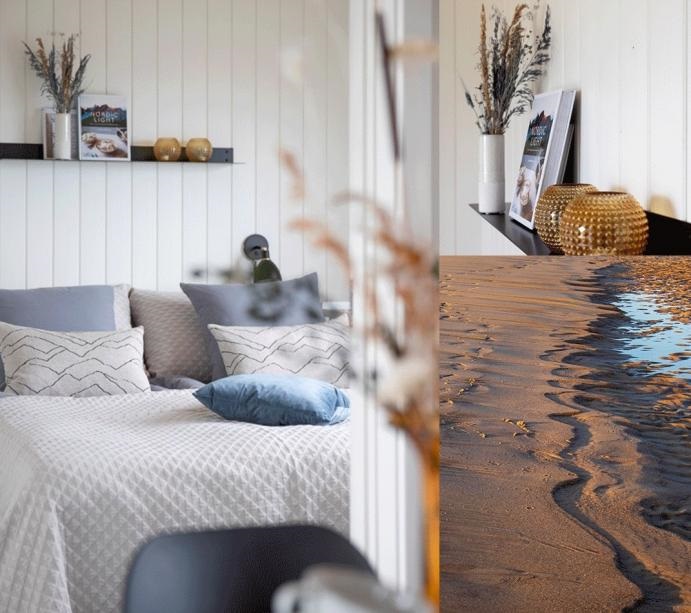 The cooperation between Lalandia and Third.space goes way back. Billund and Rødby are both on the list of previous projects Third.space has been helping Lalandia with, and now the time has come to Søndervig. There is a lot of mutual respect between Lalandia and Third.space, which is also why the interior solutions company is willing to walk that extra mile for Lalandia. Despite all challenges that occur during that comprehensive process of furnishing 440 holiday homes, Third.space managed to deliver all homes to the agreed deadline, not as much as a minute over. At one point, Third.space faced the challenge of their lamps being stuck in a container in China, but instead of just waiting for them to arrive, they took action and found a flight that was already flying to Denmark with free space on board for their lamps.
One thing is getting furniture delivered in due time. Mounting lamps, shelves, and hooks in 70 holiday homes in just 10 days is something else. A famous anecdote from the process is 'the man with the pen'. This man had a huge impact in the final step of the process, where the smaller details of the holiday homes had to be taken care of. "What he did, was to grab his pen and mark exactly where to put lamps and shelves – one holiday home at a time. That way, the craftsmen could easily see where to drill holes without wasting time on measuring", Poul Gram-Hansen explains. Conclusively, the man with the pen saved a lot of time, and Third.space spent only 10 working days transforming 70 holidays homes from empty houses to complete homes.
Although Third.space was given a task of furnishing the 440 holiday homes, they did not compromise on either quality nor personality. Lalandia Søndervig is now a resort with 440 complete homes inspired by the colours of the nature making you feel home.