February 2022
Welcome back the 60s
2021 marked the 60th anniversary of when ILVA opened their doors to customers for the very first time. Back then, the name was J.L. Møbler (J.L. Furniture), and every piece of furniture sold in the store was designed specifically for ILVA. Since then, a lot has changed, including the name, the processes, and the current trends, but to celebrate their 60th anniversary, ILVA decided to go back to basics in terms of both looks and processes.
After several decades where the product assortment was mainly built by picking and choosing the best products from suppliers, in recent years, ILVA has gone back to working more and more with designers to create unique ILVA products. A tendency that was carried on in the development of their 60th anniversary celebratory product line.
Based on original, hand-drawn ILVA ads from the 60s, ILVA asked selected designers to develop a new line of products, reinterpreting the original drawings to celebrate their heritage while tapping into current trends.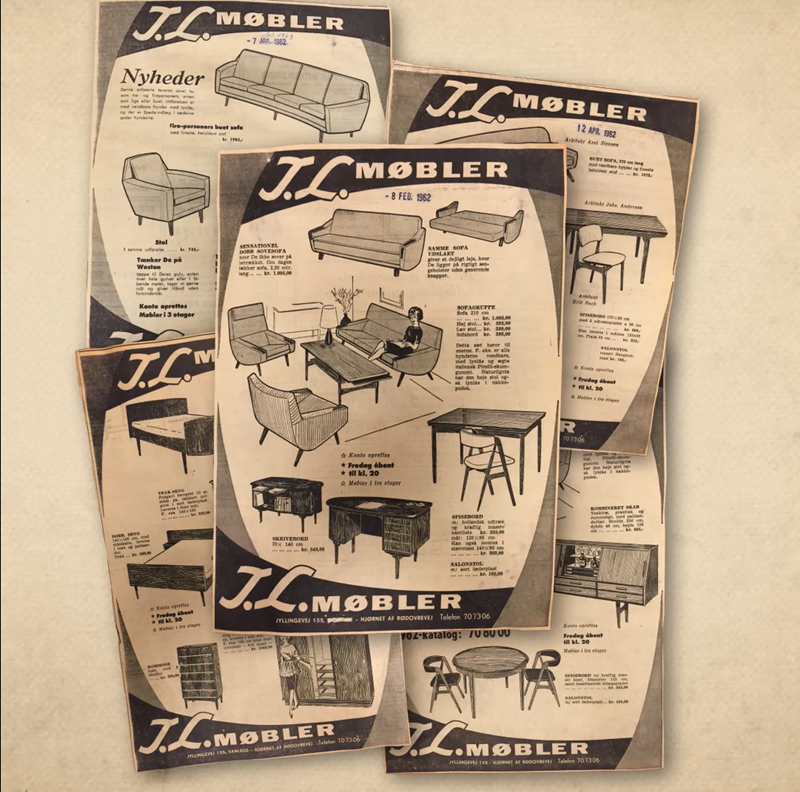 The result is a line of furniture for the living room, dining room and bedroom made in a characteristic 60s style with dark wood and textile surfaces combined with contemporary touches such as a leather detail on the armrest of the sofa and armchair.
Another modern twist which, however, is not visible to the eye, is the fact that the line has been developed with a focus on sustainability. This has led to the use of upcycled textiles made from olefin – a byproduct of the oil industry. The fabric can be shredded down to its fibres and remade into new fabrics up to ten times. Other elements carry sustainably minded certificates, such as the OEKO-TEX label.
The anniversary line has been on display in the foyer of ILVA's stores allowing customers to see the line as a whole rather than as single products dispersed across different sections of the store, and it has become a great conversation piece: "The line speaks to several generations in different ways. Those who can remember the sixties tend to stop and reminisce about the old days, while the younger audience finds the pieces very attractive and stylish. All in all, it has led to some great conversations with our customers," explains Jane Schmüchker Høegh, Head of Design, ILVA.
To her, the positive response to the retro inspired line is not surprising: "When things get uncertain, we tend to look back to better times and find comfort in revisiting past trends as a way to reminisce about the good old days. That is what we have experienced during Covid where trends from the 50s, 60s and 70s have resurfaced, and to us, our anniversary line has been the perfect way to tap into that trend while celebrating our heritage."