December 2022
Expanding the Head Office of Lars Larsen Group and JYSK
Sødalsparken in Brabrand is the address of Lars Larsen Group and JYSK's head office currently housing no less than 551 employees. Two additional buildings have been built next to the three others, and the head office now covers 21,091 square metres. It is a result hereof that JYSK and Lars Larsen Group can now share their head office without limitations. The plan and process for the constructions are initiated by Lars Larsen Group Real Estate and led by Morten Ellegaard. Three years ago, he entered the position as Head of Real Estate in Lars Larsen Group, coming from a position in another Lars Larsen Group company, ILVA.
If you stand in front of the head office, all five buildings look identical. And yes, that has been the purpose from the beginning; no other alternatives were considered in terms of the expression of the buildings. However, if you get closer, take a walk inside, and study the details a bit further, you will notice that the newest two buildings are slightly different, yet in a positive way. The meeting rooms are now completely soundproof, and so are the one-man offices. Also the canteen has been through a comprehensive renovation, where the focus has been to optimise the flow on both sides of the counter and to make it feel more spacious. Another astonishing addition to the construction is the auditorium. With room for up to 700 people, the auditorium is the most noticeable change inside the new buildings.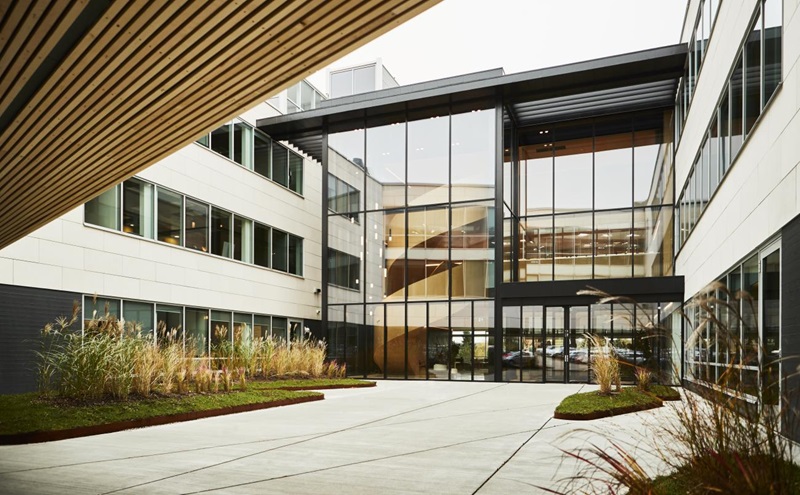 A topic that has been discussed during the entire process is how the construction work could contain more sustainable elements. The most visible element is the sedum-covered roof between the main buildings. Not only is it a practical solution; it is also a joy for the eye. Since the construction of the first building at Sødalsparken, many things have happened in relation to knowledge about more sustainable construction work. "Our knowledge and opportunities within more sustainable construction are constantly growing. Even though it's a challenge to stay updated on everchanging regulations, we do our best to ensure a more sustainable approach. One thing is for sure: Lars Larsen Group Real Estate is not standing still; we're moving forwards", Morten Ellegaard says.
The construction process was not without challenges; actually, Lars Larsen Group Real Estate has faced too many challenges, if you ask Morten Ellegaard: "When the construction workers started digging, they noticed that the water pressure was higher than what the readings showed. Therefore, we had to add between 70 and 80 ground anchors to keep the concrete block heavy enough to stand against the water pressure. That delayed our process with 6 months." The additional buildings have not only increased the number of offices and meeting rooms for employees. The additional space also becomes evident when step count is checked at the end of the day.