April 2022
Award-winning design that makes a difference
How does ScanCom contribute to the revival of plastic's reputation? As one of the leading global manufacturers of outdoor furniture, ScanCom is taking part in protecting the environment and natural resources by, among other things, using Social Plastic®.
In 2020, ScanCom entered a strategic partnership with Plastic Bank® - a global organisation dedicated to tackling the plastic polluting problem by empowering communities to keep the oceans and land clean while fighting poverty. "Our partnership with Plastic Bank and the possibilities this represents is a great milestone in ScanCom's journey towards more sustainability", the ScanCom CEO, Stig Maasboel, states.
Social Plastic® is reprocessed ocean-bound plastic feedstock that is transformed and reintroduced into the global supply chain. It therefore has a positive environmental, social, and economic impact. "In ScanCom, we are already using recycled plastic materials from ocean and land, including plastic waste from own operations", Maasboel explains.
But what is the benefit of Social Plastic® compared to recycled plastic? Here is the thing: While all Social Plastic® is recycled plastic, not all recycled plastic is Social Plastic®. This because - in addition to being more environmentally friendly - Social Plastic® provides a social benefit: Impoverished communities gain access to stable income, local economies are boosted, and life necessities, such as food, water, and electricity become more accessible. This inspiring story is closely linked to the saying "What goes around, comes around", as it is actually residents living in impoverished communities who collect the plastic.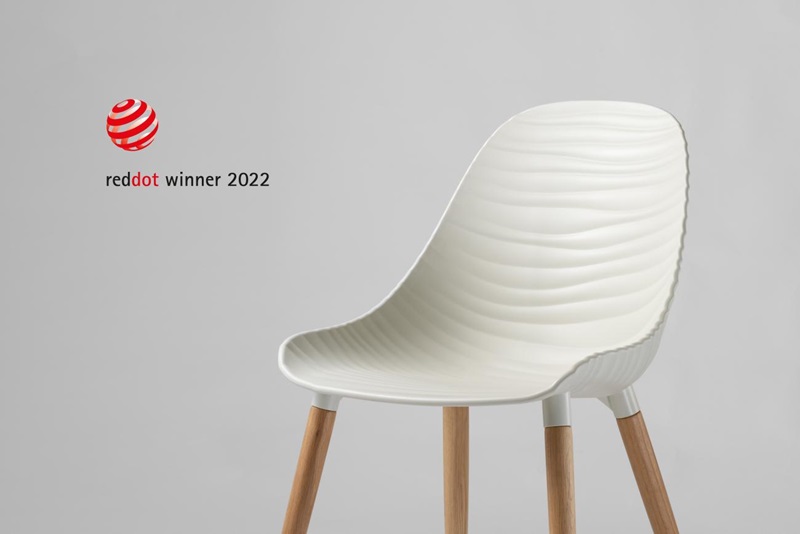 The dedication to more responsible production does not stop when the products leave ScanCom's factory. "This means that the pieces we create in recycled plastic are all made to remain re-recyclable upon end of their lifecycle", Maasboel states. Concretely, this means keeping plastic furniture 100% glass fibre free which is a common issue in many plastic chairs today. If a plastic type contains glass fibres, it cannot be recycled.
Lastly, Maasboel states: "While staying true to our approach to sustainability has a cost and requires an effort, the journey here at ScanCom is not likely to ever end, as we believe in continuing to show our dedication to people and planet - because Doing Business the Right Way also means to show others how the talk can be walked."
The ambitious approach has furthermore been rewarded by the jury of the prestigious Red Dot Award. ScanCom was announced as a recipient of the Red Dot Award 2022 in the category for Product Design. The distinction and honour was awarded to the 'Stream Chair Platform'; a unique plastic shell chair crafted in Social Plastic®.